Have you fantasised about a night of kinkiness? Imagine your wrists bound by your lover with silk ties, blindfolded, and tingling with anticipation about what your lover will do next? Have you seen BDSM in movies and thought, "I want to be tied up and blindfolded." Don't be shy. Go for it.
Initiating some BDSM into the bedroom is definitely possible even if you have never experimented with handcuffs, whips, and power plays. With these tips, you can transform into a kinky fetish goddess or god who will mesmerise your lover beyond their wildest desires.
1. Discuss boundaries. Before engaging in BDSM, you have to talk about your fantasies with your partner. BDSM means going beyond vanilla sex. One of you is giving up ultimate control. Discuss how you want your scene (the time your kinky session starts and ends) to go. Talk about boundaries. Do you want to be tied up, gagged, blindfolded and teased and fucked with d*ldos with your nipples clamped? You may want spankings with a paddle or lashings with a riding crop.

Discuss what you absolutely don't want to do. Maybe anal isn't your thing or face slapping. Say so. Remember to determine who is going to be submissive. Always choose a safe word – anything other than "stop", which may be part of the play. Think of something obscure like "mirror" or "red" to say if you want the scene play to stop. BDSM is fantastic for foreplay, but just be sure to be on the same page.
2. Get dirty. If you decide to play the submissive roll, do you want to be punished with harsh words? If you're a woman, do you want to be called a "slut", "whore", or "bad girl"? Do you want to call your lover "daddy" while you pretend you're a little girl? Maybe you have a rape fantasy and you want to be forced to give a blowjob.
If you're a man, do you want to relinquish all control and have your lover be a tough, controlling d*minatrix clad in a latex catsuit? "Bad boy," she says as she teases roughly with your cock before forcing you to eat her pussy while she sits on your face. Unleash your sexual creativity and inner wickedness. Brilliant dirty dialogue can lead to a lot more role play and open up new fantasy scenes.
3. Enjoy toys and props. You don't have to spend a fortune at an ad*lt store or online to experiment with BDSM. Sure, you can buy furry or metal handcuffs and lacy or leather blindfolds. But you can also use household items to dive into the BDSM world. After all, you may not like it, but we're betting you will.
Instead of scarves or handcuffs, use rope you have in your garage. A metal spatula or spoon can replace a fancy leather or wood paddle to administer a proper spanking to your disobedient partner. Have a sleep mask? Slip it over your lover's eyes, and let it ignite the anticipation. Clothespins can be used for nipple or clitoris clamps. Lotions and oils that are likely in your bathroom can make for slippery fun play. Light a massage candle, tease your blindfolded lover's nipples, and then drip hot wax over them. Guaranteed moans. You'll likely want to invest in a dildo, vibrator, and possibly a b*tt plug. Foods like whipped cream, strawberries, honey, and chocolates are fantastic to have for food play. Get messy! You have permission.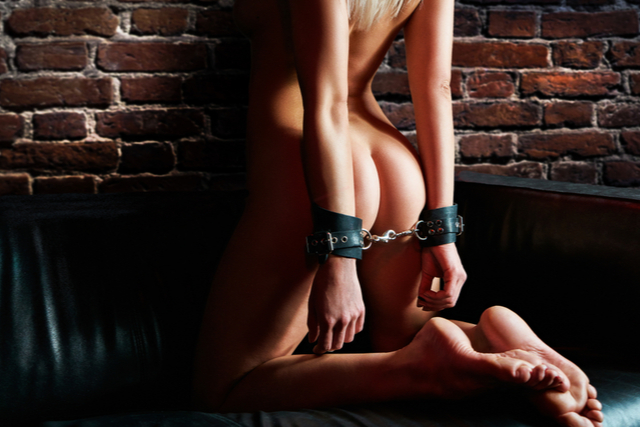 4. Wear costumes. Role-playing can make your wildest fantasies come true and ignite a night of boundless kinkiness. By taking on role-playing with costumes, you can shift power dynamics –student and professor, boss and secretary, doctor and patient, princess and kidnapper. The options are as limitless as your fantasies, and costumes create fanciful foreplay opportunities.

Want your lover to dress like a French maid? A nurse? Catwoman? Harley Quinn? A swash buckling pirate? Prefer to shift roles? Woman in a tuxedo, man in a dress. Sure, explore your inner fantasies. Maybe you want your lover to wear a Merry Widow, complete with garters and a corset. Again, discuss this before your BDSM adventure begins so that all costume components can be ready. Note to women: Fishnet stockings and thigh-high boots are always a turn-on whether you're dabbling in BDSM or just going to dinner even if dessert ends up just being vanilla sex. Any sex is better than no sex!
5. Get edgy. Let your lover control your orgasm, often called "edging," which is when your lover brings you close to orgasm only to stop abruptly. There may be begging involved, and your partner refusing to stimulate you again. If you're tied up during edging, you will have absolutely no control of your orgasm. You won't be able to use your own hands to go between your legs and pleasure yourself. Your orgasm is completely in the hands – or mouth – or your lover. When you are about to climax, your lover will stop. The more that this happens, the more you will be driven into a frenzy, craving an orgasm desperately. This delayed gratification will help you have explosive orgasms. Trust us.
BDSM will open sexual doors that you have always wanted to enter. One adventure is likely to lead to another one. If you have never experimented with BDSM, the best way to dive into this world is with an experienced escort who understands boundaries and every fantasy you can concoct in your dreams. Once you journey down the BDSM rabbit hole, you will not want to return to vanilla sex. Oh no, trust us. One fetish leads to another, and you will love exploring every single one of them especially with a Red Door escort.